Father Damien - Apostle to the Patients

Molokai, one of the least habited Hawaiian islands (population 7000), is an island with much natural beauty and a unique spirituality. Molokai served as home for sixteen years, to Father Damien, a 19th century Sacred Hearts priest from Belgium, who volunteered to care for the Hansen disease (leprosy) patients at Kalawao, on the desolate Kalaupapa peninsula of Molokai. In 2009, Pope Benedict XVI canonized Father Damien, Saint Damien of Molokai, Apostle to the Patients. Although his title is now "Saint Damien", for the people of Molokai and for all those who find inspiration in his story or who walk in his steps this beloved man remains "Father Damien."

In his ministry on Molokai, Father Damien bandaged and comforted the leprosy patients; built hospitals, houses, chapels and coffins; organized picnics; educated the children; and ministered to the patients' spiritual needs. In his work with the patients who had been exiled to the isolated Kalaupapa peninsula, Father Damien reformed a settlement known for its lawlessness, filth and despair, into a community of individual respect, love and laughter. Father Damien built a community of love and hope through his teaching and living Jesus Christ's gospel message of unconditional love. Following Father Damien's death in 1889, his work among the patients was continued by Mother Marianne Cope, OSF (canonized Saint Marianne in 2012) and by Brother Dutton, a US civil war veteran.

The Saint Damien Catholic Parish and Church

Today on the "topside" of Molokai, the Saint Damien Catholic Parish, lives as "ohana" (family) serving God, serving each other and the greater world community. We endeavor in our own small ways, in our daily lives, to live Jesus' gospel message, that we are each called to build the kingdom of God here on earth. We do that in our daily work, in our extension of friendship and charity to those in need. Our goal and mission is, like Father Damien, to give without counting the cost, without expectation of thanks, and without judgment of those we serve.

One of the primary missions of the parish is to serve as a resource to visitors and pilgrims to Molokai who come to learn the Father Damien story. In 2011, after 16 years of planning, praying and fundraising, the parish completed the construction of and dedicated to God the new Saint Damien of Molokai Church. The new Saint Damien Church stands in the main town of Kaunakakai, in the center of Molokai and serves as the parish's primary worship space and as a gathering place for visitors and pilgrims who come to learn the Father Damien story.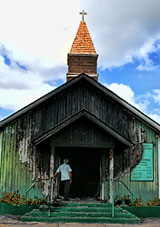 How You Can Help

The Saint Damien Parish was in need of a new church for many years and in the 1990's began fundraising to build the new Saint Damien Church. In 2010, the main church in Kaunakakai, Saint Sophia Church, was lost in a fire. At that point, as the parish was without its main church, it became critical, that the Saint Damien Church be built.

The new Saint Damien Church was constructed at a cost of $3.4 million dollars. In December 2011, the construction was completed and the Saint Damien of Molokai Church was dedicated to God. As one parishioner remarked, "Praise be Jesus, Alleluia!"

The parish paid $2 million toward the $3.4 million construction cost. We are most grateful to our Friends of Father Damien in Hawaii and on the mainland, who helped us raise the $2 million. The parish is indebted to the Diocese of Honolulu, for $1.4 million. Parishioners donate monthly to the Damien Church Building Fund and we continue to fundraise to pay our debt. It is our hope and goal to repay this $1.4 million obligation over 20 years. This is a formidable task given the economic realities of Molokai. The island is economically challenged and unemployment ranges from 11% to 16%; over 1/3 of the island residents receive public assistance (food stamps). You can assist our parish and honor the memory of a loved one or of Father Damien, by your generous
donation
to the Damien Church Building Fund.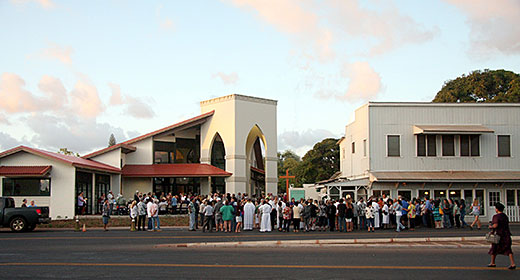 Saint Damien of Molokai Church-Dedicated to God December 2011